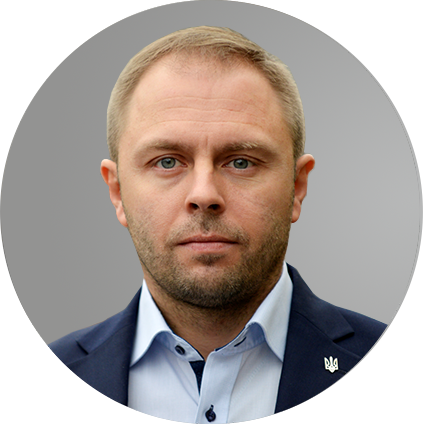 Andrii Maisner was born in September 21, 1979 in Magadan, RSFSR.
Education
2002 – graduated from European University of Finances, Information Systems, Management and Business, specializing in Banking, qualification – specialist in economics.
2011 – graduated from National State Tax Service University of Ukraine, specializing in Science in Law (Jurisprudence), qualification – lawyer.
In 2018 he was awarded the PHD degree in Law after defending the thesis on the theme: "International crime "agression" in the modern doctrine of international law".
Work Experience
1996 – 2003 – worked in private sector of economy in the fields of construction, banking and education.
2003 – 2004 – Deputy Head of Public Relations and Mass Media Department, Head of Media Management and Public Relations Unit of the Minister Support Department (Patronage Service) at the Ministry of Finance of Ukraine.
2004 – 2005 – Head of Information Policy Office of the State Tax Administration of Ukraine.
2005 – 2006 – Advisor to CJSC "Eurocar".
2007 – 2010 – worked at OJSC "State Export-Import Bank of Ukraine".
2010 – 2011 – Deputy Head of the Control and Revision Office in Kyiv.
2011 – 2012 – Director of Department for Human Resources of Public and Local Government Bodies of the National Agency of Ukraine for Civil Service.
2015-2017 – Acting First Vice-Rector, First Vice-Rector for Administration, Vice-Rector for Economics and Management of the National Aviation University.
2017 – Assistant of the Department of Civil Law and Procedure of the Academic and Legal Institute of the National Aviation University.
2017 – 2018 – Advisor to the Board Chairman of PJSC JSB "Ukrgasbank".
On 15 March 2018, the Verkhovna Rada of Ukraine appointed Andrii Maisner as the Member of the Accounting Chamber (Decree of the Verkhovna Rada dated 15 March 2018 No. 2345-VIII).
On 22 March 2018, by the decision of the Accounting Chamber, Andrii Maisner was elected as the Deputy Chairman of the Accounting Chamber (Decision of the Accounting Chamber dated 22 March 2018 No. 7-1).
Honours and Awards:
2003 - Honoured Certificate of the Ministry Finance of Ukraine.
2005 – Honoured Officer of the State Tax Service of Ukraine.
Holds a special rank of the tax adviser of the first rank
Certified specialist in Project Management and Corporate Governance.
Married. Has got three children.
Hobbies:
philosophy, billiards and tennis.